Call Monitoring
All of us have heard the automated message when we call up customer service for complaint resolution: "This call may be monitored or recorded for quality assurance purposes." We believe that call monitoring is all about control and training. However, this feature can be used for various businesses and departments.
What Is Call Monitoring?
Call monitoring refers to the process of listening to a representative's calls with the objective of improving the quality of communication and customer service. It is widely used in customer support and telemarketing settings to increase call center agent efficiency and deliver a high-quality customer experience.
Sometimes, terms like call logging, quality monitoring, and agent monitoring are also used to refer to call monitoring. Managers and quality analysts can monitor calls with or without the knowledge of the agent. Besides, managers can also record calls and use them for later access, analysis, or training.
Traditional v/s Real-time Call Monitoring
In traditional call monitoring, all calls are recorded, stored in a database, and assessed later. It helps call centers to quite an extent from a broader perspective. But it does not help when the agent is interacting with customers and trying to resolve their queries.
What is a real-time call monitoring feature?
Real-time call monitoring, as the name suggests, evaluates every call in the present moment. It provides managers with access to detailed call analytics and alerts. The latest software can track speech patterns to identify abusive language, escalation attempts, and customer sentiment.
How Real-time Call Monitoring Software Works?
Real-time monitoring uses AI-driven speech analytics to assess everything included in a call. The algorithm automatically generates a transcript of every call in real-time. Managers can listen to the calls and help the call center agent provide solutions to customers.
How real-time monitoring helps your call center?
1. Consistency in customer service
Real-time call monitoring can guide agents to take the best action when certain things occur on the call. For instance, take a look at the below image showing an unhappy telecom subscriber.
2. Track agents' performance accurately
Real-time monitoring provides accurate scores for every call and also gives performance feedback to agents and managers during the call.
Post-call analytics helps call center managers to compare and contrast agents based on different parameters. They can then decide who is good and who needs more one-on-one training.
3. Real-time compliance
Real-time call monitoring software track every call for FDCPA violations, Mini Miranda language, right-party contact language, and the use of abusive language from either party. In case of any violations, the system alerts the managers to intervene immediately.
Ways To Do Call Monitoring?
There are numerous ways to monitor calls. You can be on an extension call and listen to the interaction between your agent and the customer. Or, you can jump into a live call and speak to both parties. There's no right or wrong way to monitor calls, and you can pick the way that best suits you, your agents, and your organization.
That said, there are a few common ways of monitoring calls, such as:
Live call monitoring
Live call monitoring is the primary method of monitoring software that has been out for decades. In this form of monitoring system, you enter a live call between an agent and a customer and listen to the interaction without either party's knowledge. Live call listening is an effective way to get real-time insights into how your agents interact with the customers.
Whispering
Whispering is a process in which a manager or supervisor speaks directly to the agent during a call, without the customer hearing. This call monitoring method is beneficial because, in addition to tracking the agent's call, the supervisor can help the agent in real-time to enhance the customer experience.
Call barging
In call barging, a supervisor jumps into a live call unannounced and can speak to both the parties. The supervisor can enter a live call and interact with both the customer and agent without the need for call waiting or transferring. However, this process can be less effective as the agent may get nervous with a supervisor monitoring him in real-time.
Call recording
Call-recording is holistic and one of the best ways to monitor calls. In this process, you enable automatic call recording in your call monitoring software. When a call ends, the software automatically records and stores it. Supervisors can then access and analyze these calls to monitor agent performance and suggest improvements.
Benefits Of Call Center Monitoring Software
In a nutshell, right call monitoring software helps you ensure that your call center workforce is effective, compliant, and productive in providing excellent customer service.
Here are some of the key benefits of call monitoring
1. Identify deficits and proficiency in agent performance
Call monitoring helps you gain a comprehensive view of an agent's performance, including his deficits and proficiency. Let's say an agent struggles when a customer asks for a refund. By monitoring the calls, you can determine why the agent struggles with this type of caller and where he is going wrong.
2. Improve agent performance
Once you've identified the deficits in an agent's performance, you can organize curated training sessions to address them. If your agent struggles to handle refund requests, you can train him to respond to such queries in a particular way. This way, your agent will be able to better manage the customers without ruining the customer experience.
3. Increased agent morale
Your agents may not show, but they want help. Working in a call center, especially outbound where agents need to make sales, can be difficult. The agents need to know what they're doing wrong and how they can improve.
At the same time, they'd also like to hear what they're doing right. Call monitoring allows you to pinpoint both areas of excellence as well as improvement.
4. Enhanced customer satisfaction
The ultimate goal of call monitoring is to increase customer satisfaction. If your agents are not performing as per requirement, it'll translate to unhappy customers and lost business.
Call monitoring lets you train your agents to be customer-centric and focus on the customers' satisfaction. Satisfied customers turn into recurring customers, which adds revenue to your business.
5. Boost sales
In outbound call centers, your goal is to generate sales and revenue. If your agents are not interacting efficiently with the customers, your sales will plunge, and business will dry up.
Call monitoring helps you run your outbound call center like a well-oiled machine. By tracking your agents' calls, you can determine what exactly they're doing wrong and how to maximize their potential to increase sales.
6. Increased overall revenue
The purpose of call monitoring is to generate greater revenue for your company. When you continuously monitor and improve your agents' performance, you increase the chances of making your customers happy and encourage them to do business with you again.
How to Set Up an Efficient Call Monitoring System?
Now, that you understand the significance of call monitoring, you should also know how to deploy the system correctly in your call center.
First up, hire a team, which is dedicated wholly to keeping track of your calls. You can either gather a team of internal employees, comprising customer service managers and experienced agents. They should be able to thoroughly understand the various aspects of customer service. You may also think of hiring a third-party agency, consisting of trained professionals, who can offer unbiased and comprehensive feedback after analyzing your calls.
Next, have a system of creating scorecards in place. Scorecards maintain records of the factors around which agents will be evaluated. You can include waiting times, call durations, listening abilities, and handling of dissatisfied callers as some of the aspects to measure agent performance.
Of course, you should also take inputs from your agents as to what should be the set performance benchmarks. This will lead to enhanced commitment and increased dedication.
Now, if your call center attends to different categories of client issues, it is better to segregate the call monitoring process. You can have individual metrics for proactive and reactive calls. Since all agents do not handle the same type of calls, it is unfair to measure them through a universal scorecard.
Focus equally on both successful and unsuccessful calls and save prime phone calls as future reference. The latter examples can be used as a guide to train new agents. Finally, take measures to improve the whole process and not only the customer service reps. Sometimes, you might also need to overhaul outdated internal processes.
Last but not least, invest in premium-quality VOIP software that has all the latest call monitoring feature embedded in the system. "With CallHippo's interactive interface, you can monitor your calls precisely. From the "Activity Feed" section, you can find all your call logs with details like Department, Caller Name, Client Number, Call Status, Date and Time, Total Call Duration, and Total Call Cost."
"You can directly access all the call recordings and analyze each and every conversation. Analyzing call recordings in a virtual phone system is one of the proven tools for improving customer support. Apart from that, you can filter your call logs by applying various filters like Selecting a Specific User, Call Type – Incoming or Outgoing, Specific Time Period. You can identify the flow of calls by applying such filters. You can also find the total cost of acquisition for a particular customer. You can also download the entire call log."
Why Call Monitoring Software is crucial for Call Centers?
We will discuss four ways call monitoring can help your virtual call center.
1. Quality assurance
Every business has its quality assurance (QA) department. Call monitoring is one of the QA best practices of call centers that help to serve customers in a better way. Customer service managers can record and playback calls and evaluate the agent's performance. The software can also assess various qualitative aspects like the tone of voice, the pace of talking to customers, and the agent's approach to solving problems.
Most of the best call monitoring software also comes with a customizable QA call monitoring form. In this form, you can assess agents based on predefined criteria like:
Soft Skills
Process
Compliance
Outcomes
You can see an example of a monitoring solution form below:
2. Ensure compliance and data security
Call centers across the globe have to comply with some strict rules and regulations. The call monitoring features helps organizations in the compliance process. It helps to identify sensitive data in voice calls and can automatically stop recording such interactions. Advanced call center software can also secure the recordings in a cloud server. Organizations can retrieve the data in the future if needed.
3. Workforce productivity
Based on the results of the call assessment, managers can recommend corrective training and improvement programs for call center agents. Call quality monitoring software is significant in large establishments having multiple departments and call centers. The team managers can share results across departments to boost the overall productivity of the company.
4. Improve business profitability
Monitoring functionality helps businesses identify the competition and differentiate themselves from their competitors. In-built analytics can assess customer perception of company products or services. Based on these insights, the business leaders can make better decisions and head towards profitability.
Now, you are aware of how call monitoring software can make a difference for your call center. We should also discuss the best practices of monitoring solutions used by successful organizations. But before that, let us understand the concept of real-time call monitoring.
5 Call Monitoring best practices you should never ignore
1. Record and monitor all calls
The call centers want to make monitoring tools processes faster. For this reason, some call centers take a shortcut. They analyze random calls. Unfortunately, it does not provide the complete picture. Instead of taking shortcuts, call centers should automate the entire process using the latest call center software. It will help them monitor and evaluate 100% of the calls.
2. Hold retro meetings
Retro meetings help top-performing agents to share their winning behaviors with fellow agents. For example, they can share the tactics and vocabulary they use to resolve calls. Remember, call center software can deliver excellent results only when you share the insights with everyone around you.
3. Document your call monitoring policy
If you own real-time call monitoring software, update your monitoring tool and evaluation documentation. Share this document across the organization. All agents and team managers should have clarity on evaluation areas. Include the monitoring software policy when training newly-recruited agents and managers.
4. Everyone should be a part of the process
Executive management must ensure that managers, supervisors, and agents play an active role in the call monitoring process. Interactive quality management dashboards combine all results and deliver insights in a few clicks. When everyone is aware of what the insights mean, it helps achieve key business objectives across all departments.
5. Compare data with industry benchmarks
You gain access to valuable internal data through real-time monitoring software but, you should also compare it with external industry data and statistics. Compare KPIs like average call abandonment rate, time to answer, queue time, and service level. It helps you get a realistic idea of the targets you should set for your agents.
Call Center Call Monitoring Features
Top 3 Call Monitoring Software
1. CallHippo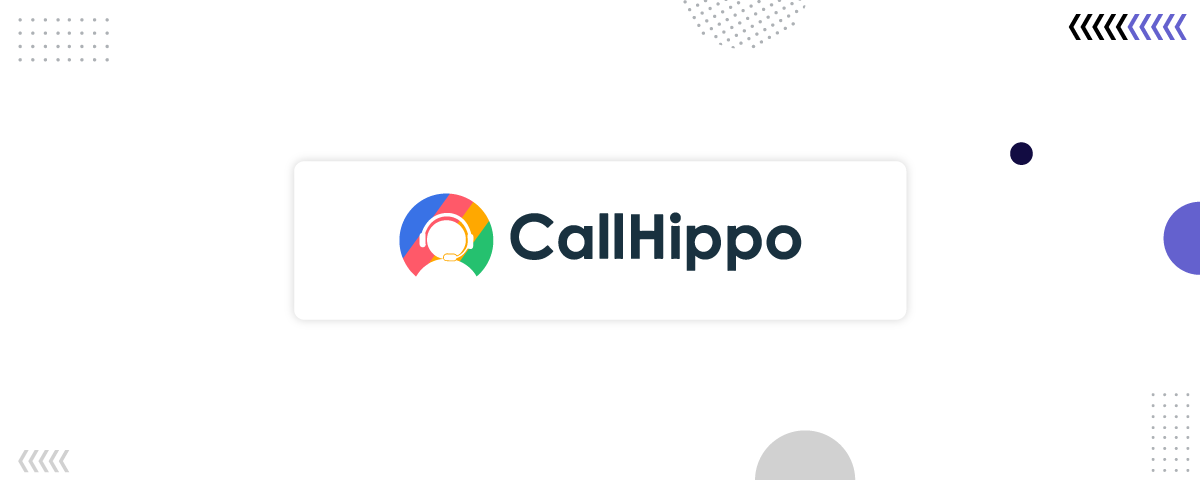 CallHippo is one of the best VoIP service providers with robust call monitoring features. Whether you want to monitor calls in real time or barge into a live call, CallHippo allows you to do it all. This can help you improve your agent's performance while enhancing the customer experience. 
Features of CallHippo
Live call monitoring

Call whispering

Call barging

Call recording

Voicemail

Skill-based call routing

Feedback for calls

Intelligent reports and analytics

Automatic machine detection
CallHippo Pros
Proactive customer support

In-depth analytics to help you understand your customers

Helps avoid FDCPA violations and the use of abusive language from either party

Offers better value for money than other call monitoring systems on this list
CallHippo Cons
The mobile app needs to be more robust

The user interface could be improved

Sometimes connections during calls get lagged 

Setting up voicemail is quite difficult
CallHippo Pricing
CallHippo has four plans.
Basic: $0 per month

Bronze: $16 per user per month

Silver: $24 per user per month

Platinum: $40 per user per month
2. TalkDesk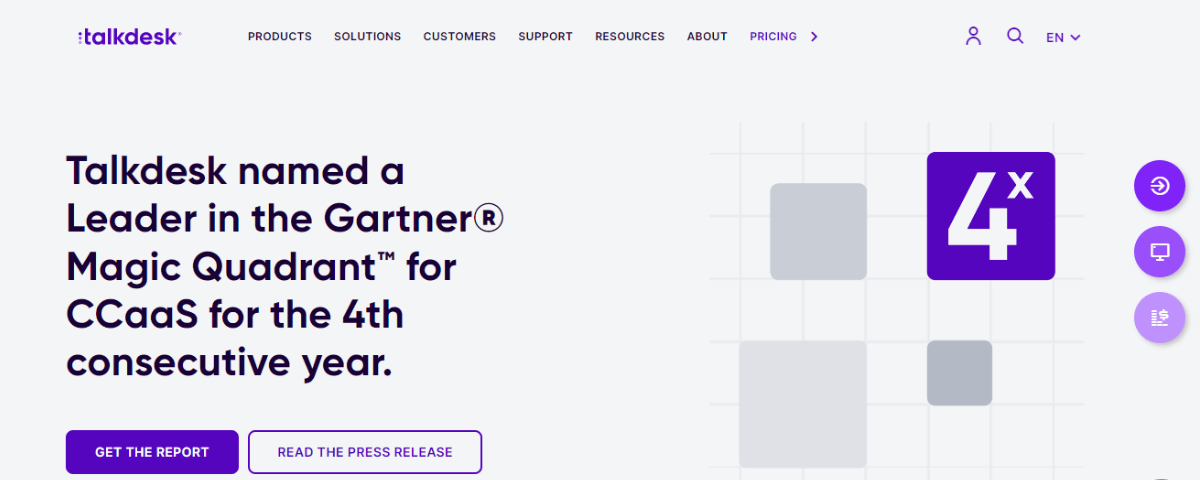 TalkDesk is another leading call monitoring software that empowers you to deliver a better customer experience. It allows you to monitor and check the quality of calls of all your support agents. Managers can see the ongoing calls from their "Live Calls" dashboard and barge in on them if required. 
Features of TalkDesk
Voice engagement

Studio and routing

Real-time dashboards

Knowledge management

Business intelligence

Virtual agent

AI trainer

Quality management

Screen recording

Customer experience analytics
TalkDesk Pros
Robust AI features like agent assistance and virtual agent

Even the basic plan comes with comprehensive voice capabilities

Supports a wide range of third-party integrations

Provides agents with step-by-step guidance via Smart Scripts
TalkDesk Cons
The mobile app is only available on premium plans.

AI-powered features are way too advanced for small and mid-range businesses.

It is more expensive than other call monitoring software on this list.

Customers report call drops, and quality issues are quite common.
TalkDesk Pricing
TalkDesk has four plans. 
CX Cloud Essentials:

$75 per user per month

CX Cloud Elevate:

$95 per user per month

CX Cloud Elite:

$125 per user per month

Experience Clouds:

Quote on request
3. Zoho Desk

Zoho Desk is a powerful phone system that comes with call monitoring capabilities. It has extensive ticket management features that are perfect for businesses receiving a high volume of daily queries. The dashboard provides a comprehensive view of agent activity, including response rates, ticket traffic, and customer sentiments.

Features of Zoho Desk
Agent collision detection

Contextual AI

Response editor

Omnichannel communication management

Sentiment analysis

Embeddable self-service

Work modes

Custom workflows
Zoho Desk Pros
Integrates seamlessly with other Zoho products

Affordable per-user pricing

Comes with a 15-day free trial to test the product

Robust analytics and reporting
Zoho Desk Cons
Complex to set up and customize

Does not have a desktop application

Has a high learning curve

Lack of customization options in the lower subscription tiers
Zoho Desk Pricing
Zoho Desk has three plans. 
Express

: $7 per user per month

Standard

: $12 per user per month

Professional

: $20 per user per month
Enterprise: $35 per user per month
Frequently Asked Question About Call Monitoring
What is a call monitoring system?
Call monitoring is a system for monitoring telephony activity and sending telephony-related information to the assigned agent upon request. Ideally, this system is implemented by companies to understand the customer behavior, evaluate the agents' activity, and monitor call quality, to provide the best possible customer service.
What are the capabilities of call monitoring software?
There are various capabilities available in call center monitoring software. Call center monitoring software tracks your calls and delivers caller information in real-time to your manager, service provider, or supervisors. Some allow you to monitor particular calls, such as those for customer service or threats in the workplace. Others are more general-purpose and can be used to monitor your calls with other companies or individuals.
Who uses call monitoring system?
Businesses with a focus on sales and customer service implement call center monitoring software. It helps them constantly evaluate and optimize their practices.
Try Our Call Center Call Monitoring Software for Free
Sign up today! You get a trial with access to all call monitoring features